"THIS 16TH-CENTURY CASTLE – SET IN ONE OF SCOTLAND'S MOST HISTORICALLY FASCINATING AREAS – IS EXTRAORDINARY"
Explore
FALL in love with Kilmartin Castle and its exceptional location in Kilmartin Glen, hailed as Britain's answer to Egypt's famous Valley of Kings.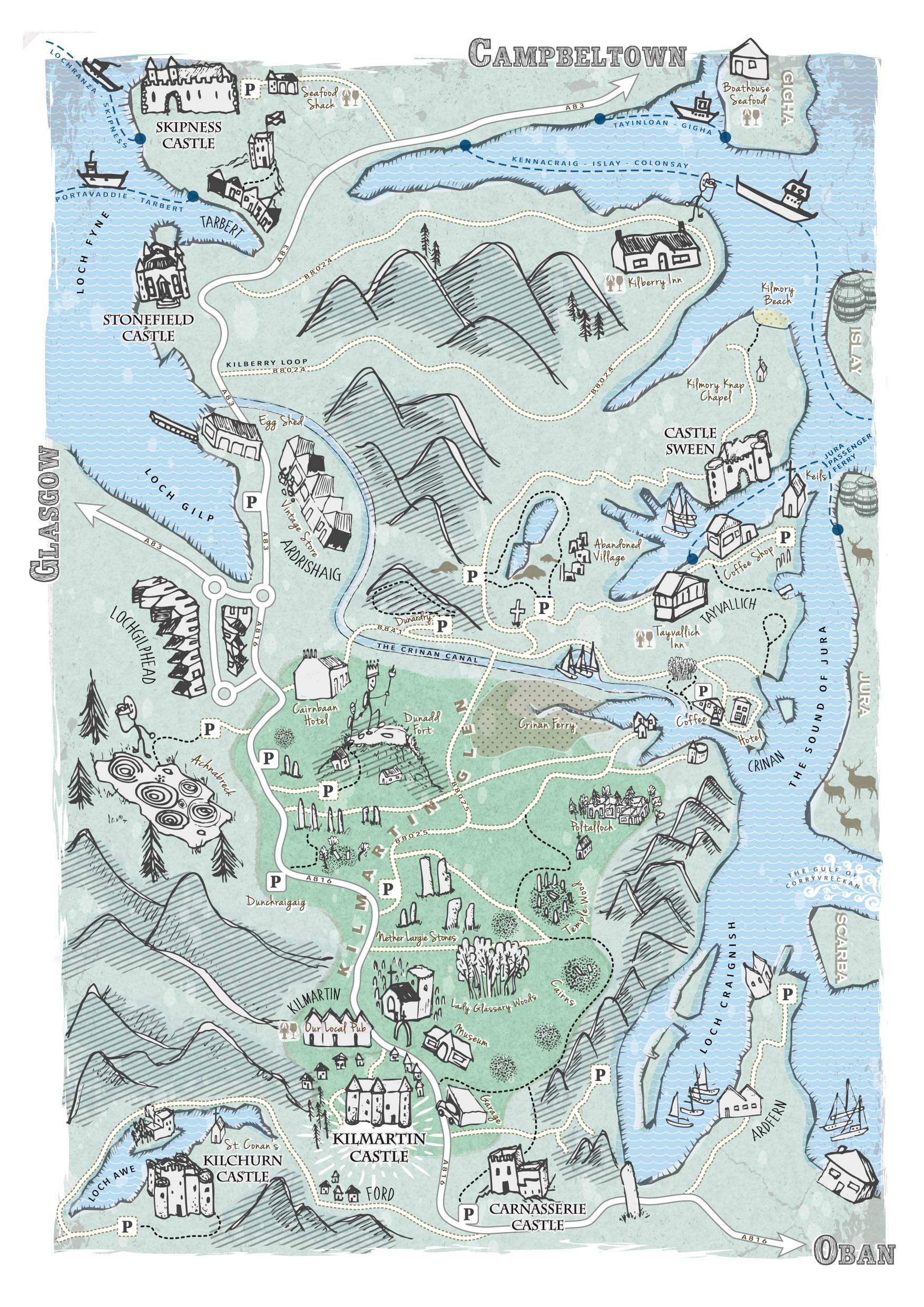 A map drawn by Simon, and now available as a handy tea towel, shows great spots to explore in and around Kilmartin.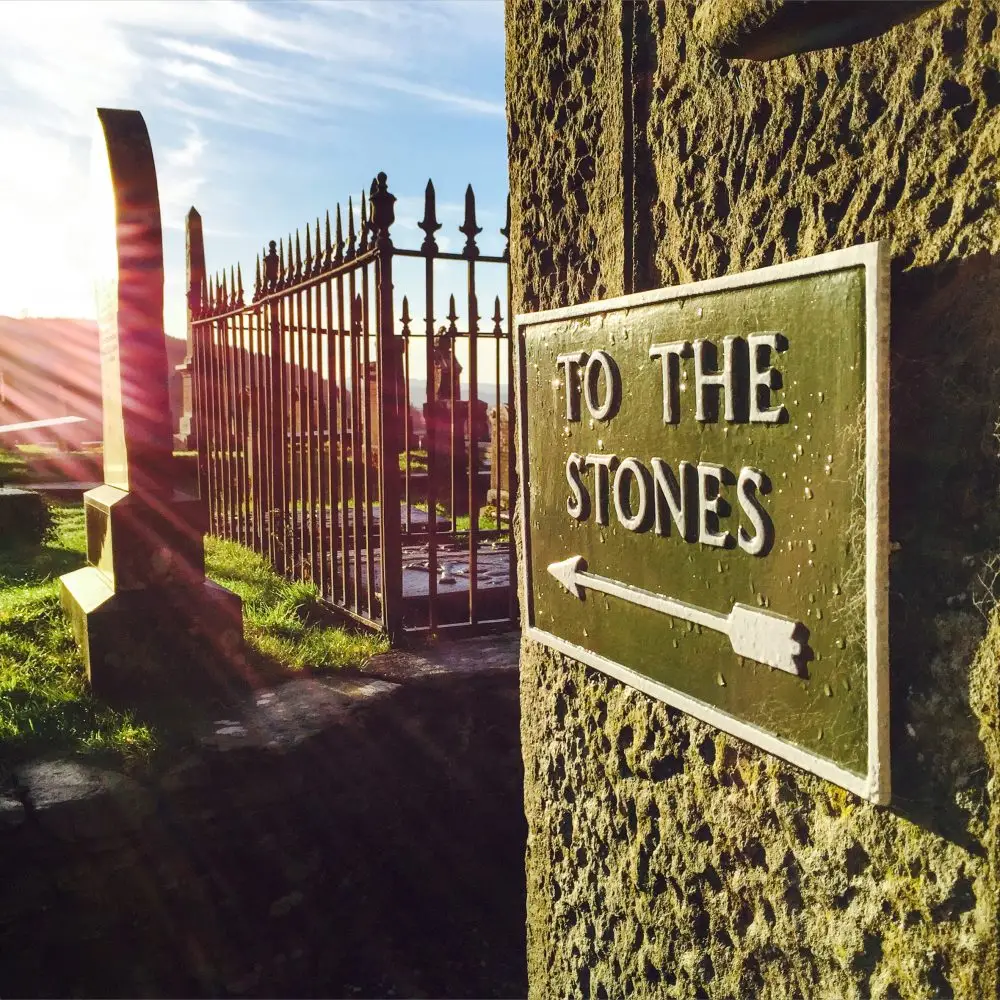 Our village
Explore on foot
Kilmartin Museum is currently undergoing a £6m renovation and is due to open in 2023 and is a good place to start if you are interested to learn more about the rich history of Kilmartin Glen.
For a pub with a great atmosphere, head to the tiny Kilmartin Hotel, only a three-minute walk from the castle. The food is homely, and there are monthly guest ales and single malts.
At Kilmartin Church, a collection of sculptured stones ranging in date from around 900 to the 1600s call the graveyard home.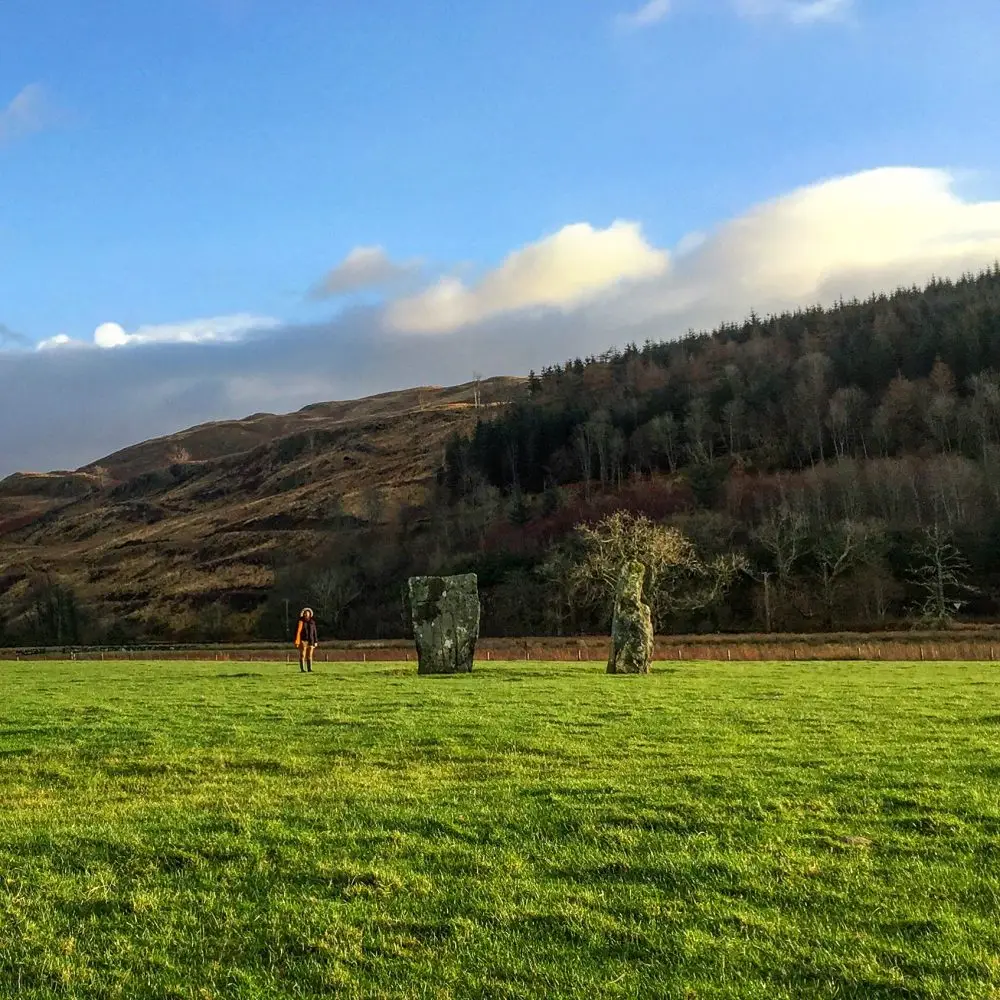 Kilmartin Glen
Discover an extraordinary part of Scotland.
Kilmartin Glen has a long and rich history. Standing stones and burial cairns were erected here, some nearly 5,000 years ago.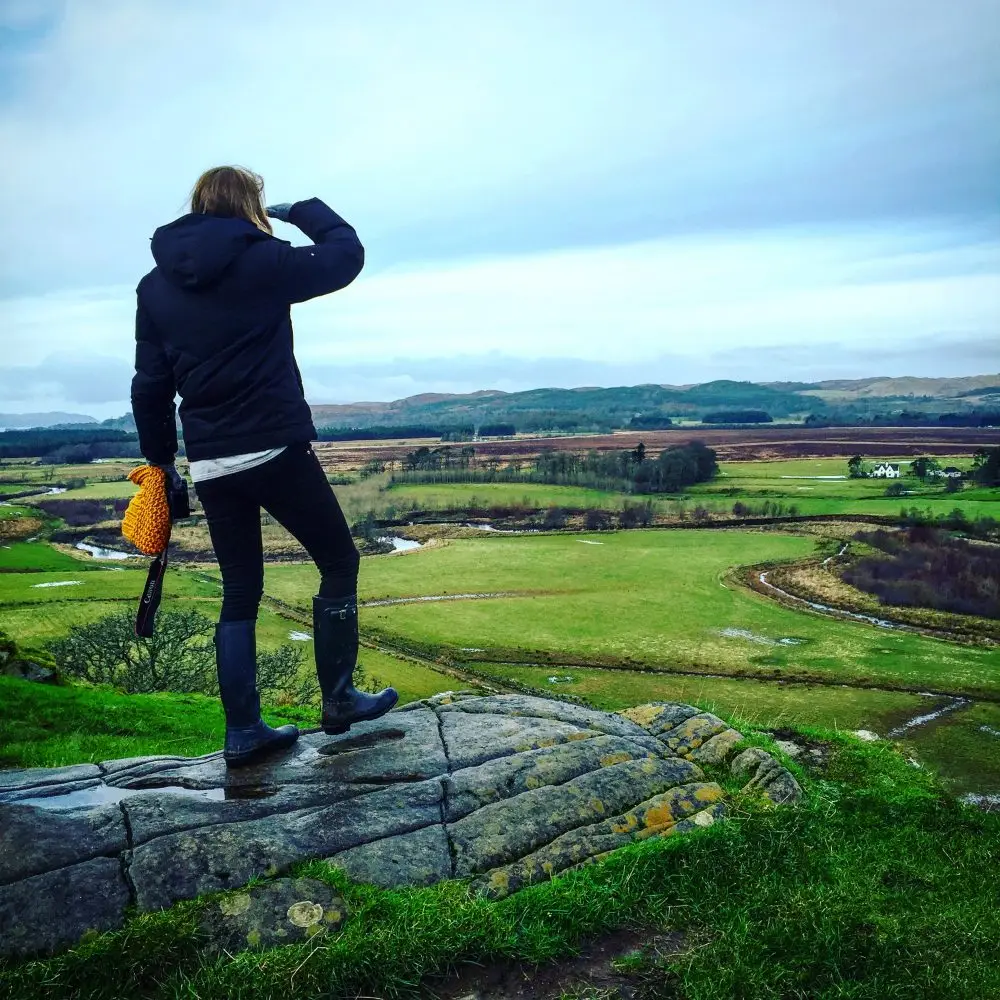 Dunadd fort
Climb to the top of the ancient Kingdom of Dalriada.
There are a number of rewards once you get there. An Iron Age fort with a footprint in the rock marks the inaugural spot where the Gaelic kings were symbolically married to the land they were to rule. This is the birthplace of Scotland and the Scotti people.
There are magnificent views of the West Coast!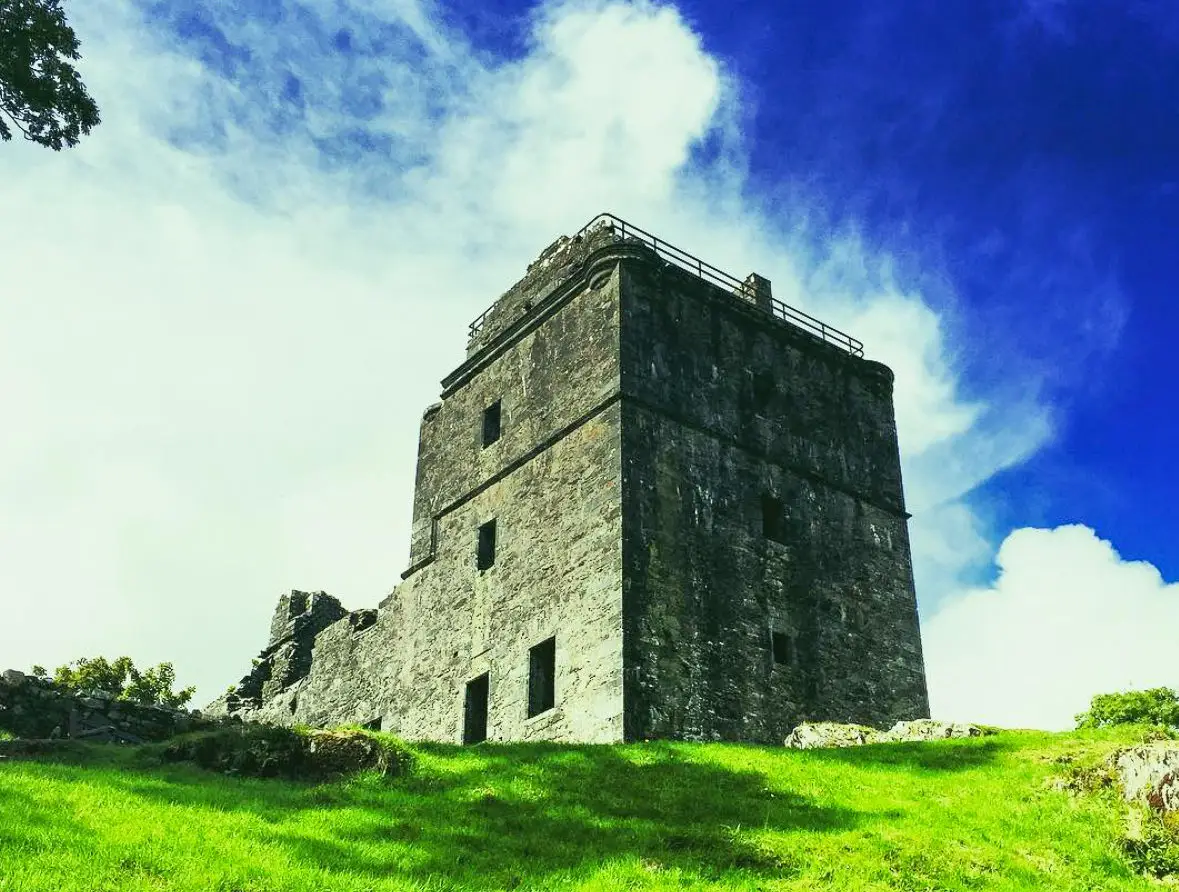 Carnasserie
Visit a ruin
When the Rector Of Kilmartin, John Carswell, was given the title 'Bishop Of The Isles', he moved from Kilmartin Castle to Carnasserie Castle and instructed the Campbell stonemasons to get to work on a European inspired renaissance makeover. That was around 1565. Now a ruin, there are super views from the top.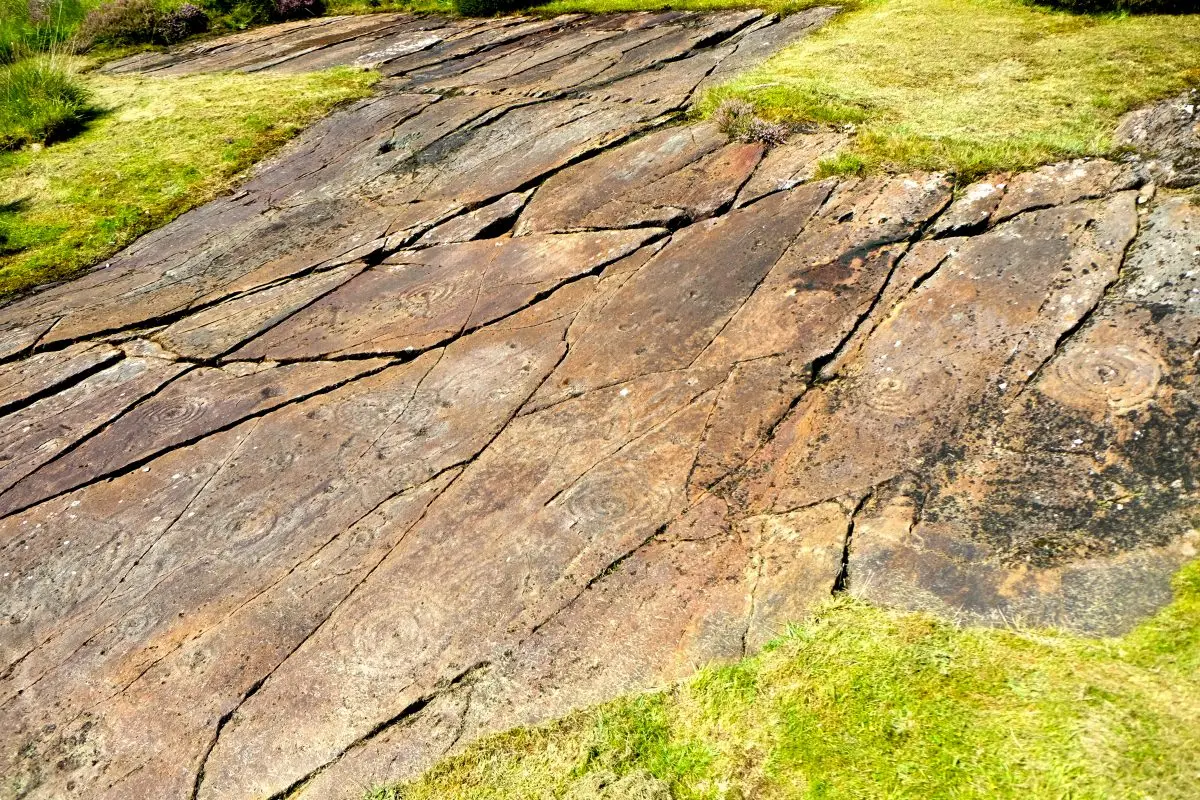 ACHNABRECK
Visit an outdoor gallery.
A mysterious stone age site discovered by pure chance! In 2008 storms blew over a group of trees. Only then was the 5000-year-old rock art of Achnabreck found. Random cup-marks and spirals, many connected by lines cut into the rock create one of the most excellent examples of prehistoric rock art in Scotland. This site stands as a real reminder of how much there still is to uncover.
CRINAN CANAL
Take a bike ride along the prettiest shortcut in Britain.
Crinan canal starts in Ardrishaig on Loch Fyne and ends at Crinan on the Sound of Jura, nine miles away. Fifteen loch gates stand between the West Coast and the Clyde Estuary, allowing sailors to avoid the long way around the south end of the Kintyre peninsula, and us to watch as they do so.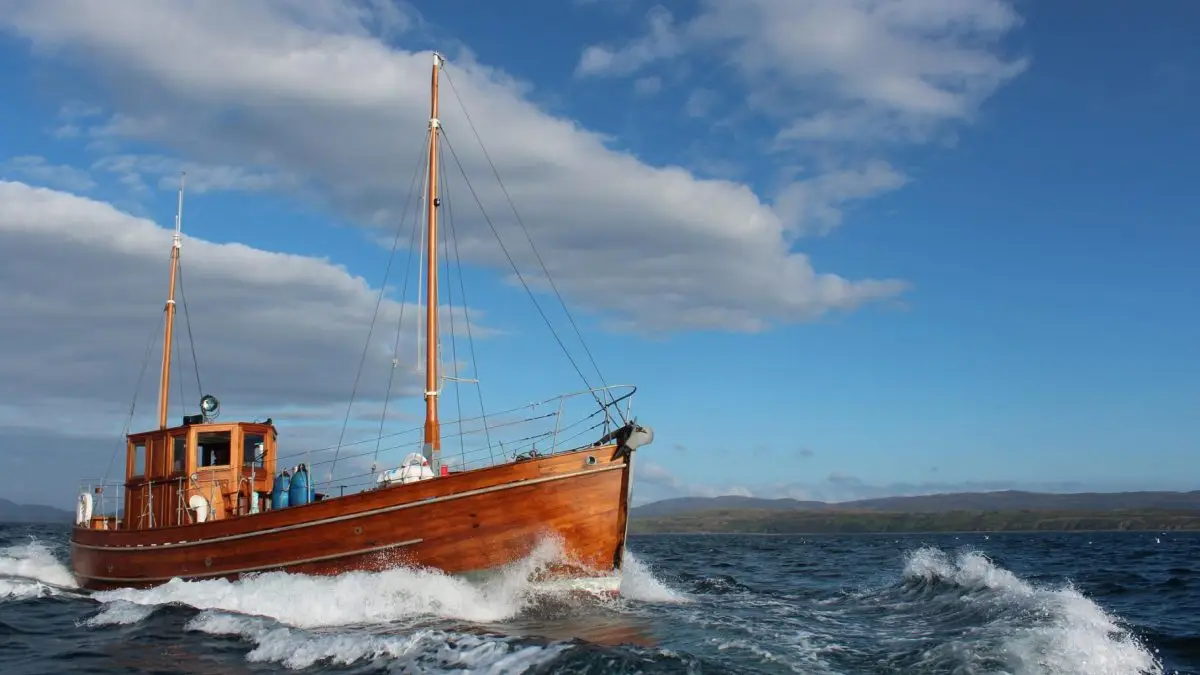 TAKE A TRIP ON SGARBH
Teak, completely original, and the last of her type!
Sgarbh is a fully restored 1940's local fishing boat. She is owned and skippered by Ross Ryan. Ross works as a full time artist, and has sailed all of his life.
Ross is happy to tailor a charter to suit you, be it an Islay malt whisky cruise, to a half day group trip, or even something more elaborate. Fresh seafood and other local produce can be served on the beach or aboard.
Full or half day trips set off from Loch Crinan.
You may have seen Sgarbh on Channel 4 with Timothy West and Prunella Scales cruising from Tobermory to Iona, or more recently, in Hollywood blockbuster, The Vanishing!
On board, look out for sea eagles, dolphins, minke whales and the Corryvreckan whirlpool.
We can introduce you if you are keen to do some boating whilst here!
LOCHGILPHEAD
Head to our nearest 'big' town.
Pronounced Loch-Gilp-Head, simply meaning: The Head of Loch Gilp. The village has a thriving high street with local crafts & gift shops, a butcher, a family-run fresh fish shop, the excellent Marmalade Deli, a grocers, a sweet shop, art supply store, a chemist, and the list goes on.
There is also a supermarket for essentials. The Smiddy Bistro is tucked away behind the main street and offers delicious food, including good vegetarian and vegan options.
TAYVALLICH
Order the local catch of the day.
Tayvallich sits in a beautiful natural harbour. The Tayvallich Inn is a good pub serving seafood and tucked behind the general store, the Tayvallich Cafe serves lunch on the deck with stunning views. On the drive from Kilmartin to Tayvallich you're likely to see barn owls and deer. Keep an eye out.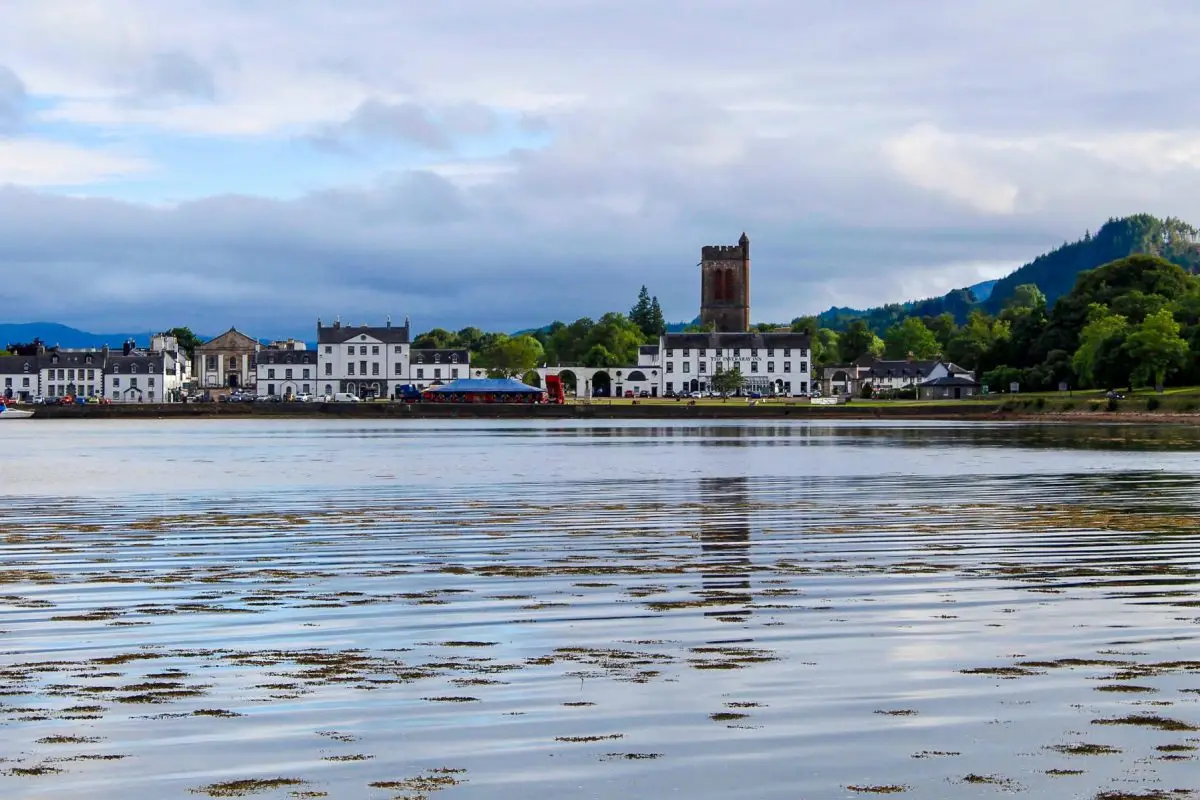 INVERARAY
Spend the day in a village.
If traveling to Kilmartin from Glasgow, you will inevitably pass through Inveraray on the way. There are a number of café's to stop off at for a bite to eat. Stepping into the George Hotel, dating back to 1770, is like stepping back in time. Think big flagstones, roaring fires, and good quality pub grub.
Inveraray Castle is the ancestral home to the Duke of Argyll, Chief of the Clan Campbell, and most recently hit headlines after featuring in 'A Very British Scandal' telling the story of events surrounding the notorious divorce of the Duke and Duchess of Argyll and starring Claire Foy. The castle was built between 1745 and 1760 and is open to the public, as is the Inveraray Jail.
If you are keen to add an Aran sweater to your collection, Inveraray main street is the place to do it. It's also a great place to pick up some very nice wellies.
the islands
Go Island hopping.
If the sun is shining, an island trip is a must. Jura and Islay being the famous ones. However, much closer to Kilmartin is the lesser-known, community-owned, Isle of Gigha. Only seven miles long and a mile and a half wide, it is breathtaking with silver beaches and clear green seas.
The ferry departs from Tayinloan on the west coast of the Kintyre peninsula, which is an hour's drive from Kilmartin. The ferry crossing only takes 20 minutes. Find the ferry terminal location and sailing times here. We always head over there without and walk the few minutes along the beach to The Boathouse which has been listed in the Michelin Guide.
OBAN
Discover how whisky is made.
The largest town in Argyll and the Isles, the gateway to the Hebrides, and also known as the seafood capital of Scotland. Oban is a beautiful 45-minute drive from Kilmartin.
Oban Distillery tours let you see how one of Scotland's oldest sources of single malt scotch whisky is made. They also let you try some at the end of your tour!
When you book to stay with us you will receive a digital Guidebook that we have put together with all of our best finds when it comes to restaurants, cafes, historical sites, secret beaches and more.
It's always smarter to book direct