"imagine stonehenge without the crowds" 
KILMARTIN GLEN
This story starts a long time ago, towards the end of the last Ice age, when the valley of Kilmartin was carved as the ice from the glaciers melted. That ice formed Loch Awe which headed out to meet the sea at Crinan. Kilmartin Glen would have been a fast-flowing river and now Kilmartin Castle sits overlooking this ancient riverbed and was recently named the 4th best place to visit in the world in 2023 by The New York Times.
Around 12,000 years ago, the early Stone Age hunters arrived to live off this region. They survived by hunting and fishing. Scattered with Stone Age and Bronze Age sites, Kilmartin Glen has so many rich layers of history. Standing stones, burial cairns, medieval stone carvings and Neolithic cup-and-ring marks tell us the story of the first human inhabitants of Scotland.
Several thousand years later, during the Neolithic period, the first farmers started to propagate the land and shift society into more permanent dwellings. For a period of time nomadic hunter-gatherers lived here alongside these early farmers.
Utilising the flat fertile ground of the glacial formed Kilmartin Glen the first farmers planted crops of early grain varieties to make bread and kept domesticated farm animals. Lady Glassary Wood is a wonderful example of the ancient woodland that once covered the entire Glen.
Kilmartin Glen itself is home to at least 350 ancient monuments, of which 150 are prehistoric, and several are within walking distance from Kilmartin Castle. Nether Largie standing stones and Temple Wood stone circle are some of the best examples of standing stone monuments in Scotland and are on the doorstep.
The award-winning centre for archaeology, Kilmartin Museum, is currently undergoing a £6m renovation and is set to open in 2023. This is the perfect starting point to discover the history and relevance of Kilmartin Glen. The museum offers guided walks weekly.
Fast forward to 1550, the year that chocolate was introduced to Europe, Mary Queen of Scots was Monarch, and John Carswell became the first caretaker of Kilmartin Castle.
As many do in Argyll today, John Carswell held down two jobs. In his early 20's he was Rector of Kilmartin Church and also Tutor to the son of the 4th Earl of Argyll, who in his later years became the 5th Earl of Argyll. He later appointed John Carswell the position Bishop of the Isles in 1565 after John translated the Book of Common Order into Gaelic. Together they took Christianity and used it to wield power throughout the Western Isles. Mary Queen of Scots awarded Carswell for his work by handing him control of the imposing Abbey on Iona. In 1565 John Carswell moved from Kilmartin Castle to the larger Carnasserie Castle nearby, now a ruin and open to the public.
For the next 200 years, Kilmartin Castle was held by the Campbell Clan, and at one time John Carswell's daughter lived here with her husband, a Campbell.
Around 1790 Kilmartin Castle fell into ruin, but the ground floor was still in use as a schoolhouse. It is a mystery why the castle was left roofless for the following 200 years. Luckily, it was overlooked by the Victorians, who often sought to make windows larger and add extensions to medieval buildings like this one.
In the 1990s, Tom and Olive Clarke, a couple in their 50's, were out rambling when they discovered and fell in love with Kilmartin Castle. It is easy to see why! They spent the next ten years of summers working on Kilmartin Castle and developing it into a country bolt-hole for their family with one shower and three bedrooms.
Tom sadly passed away and Kilmartin Castle went on the market in early 2014.
We spotted Kilmartin Castle advertised for sale whilst 3,700 miles away, working in Dubai on the radio and in advertising. We had just returned from a 2-week trip exploring Scotland after Christmas with Stef's parents. We fell hard for the rugged hillsides, lochs, history, island hopping, seafood, friendly humans and the list goes on. It started as a quick phone call to Knight Frank to ask if there was much interest. We quickly asked Stef's parents to jump in the car and make the 8hr drive for a viewing. Their advice was "If we were younger, we would do it". So we did! We eventually packed in our jobs and up our lives, including our cat Frank, in 2018.
It had taken a long time to save what we thought was enough money to start the renovation works at the beginning of 2019. If you have watched Grand Designs, you will know, it wasn't!
We spent a year living in a campervan on site and working as apprentice builders, we had to replace the heating and plumbing throughout, address problems with the roof and the ground floor, which would both leak, design a new kitchen that was sympathetic to a C16th building and source everything to make the castle the inviting and inspiring place is has become. The castle now has five beautiful bedrooms, all en-suite, some with copper tubs and wood-burning stoves. We paid a lot of attention to detail and material choices to ensure that the rustic magic of Kilmartin Castle remains intact. It was important to us that when you step inside you feel like you are in a 16th Century castle.
The renovation was filmed by Channel 4 for The Great Hotel Escape, which was extremely motivating and got us out of the camper van and up to the top floor to work when it was cold and rainy and all we really wanted to do was sit inside our van with the fire on.
The furniture and objects you see throughout the castle are antiques that we have collected over time. We have a mix of antique paintings and more modern original pieces on our walls. There is nothing here that we do not love. Kilmartin Castle is not your typical holiday home.
In 2021, having finished the inside, we moved outdoors, adding drainage, rebuilding the chimney, and renovating the gardens and grounds. We now have a beautiful outdoor entertaining area with kitchen, formal raised lawn, orchard, organic vegetable garden, wild swimming pond and loos.
As the castle kitchen is at the top of the garden, we have made sure that it is fully stocked with all of the crockery, cutlery, glasses, and cooking implements you need as well as hot running water to wash up.
An old stone shed now serves as a fancy toilet block for small weddings, events or those just enjoying a barbecue with two toilets, hand basins and a wood burner.
In January 2022 we will be building a glasshouse next to the garden kitchen which will double up as a dining room seating 16 snugly.
The story of Kilmartin Castle continues and we are incredibly excited to have you play your part in it, and to introduce you to this truly special part of Scotland!
RENO Gallery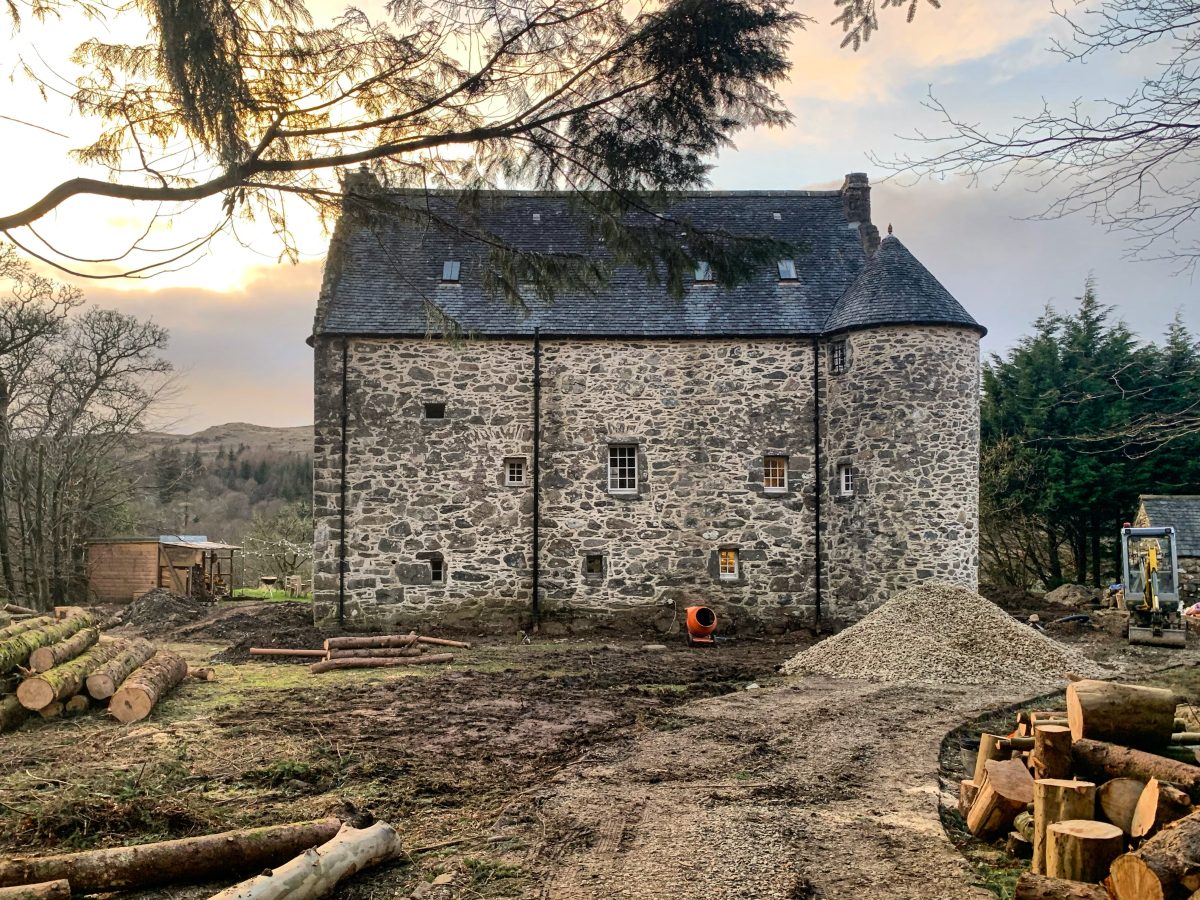 It's always smarter to book direct