The place
Kilmartin Glen is a valley, carved by the glaciers of the last Ice age! Scattered with Stone Age and Bronze Age sites, our Glen has so many rich layers of history to share. Including standing stones, burial cairns, medieval stone carvings and Neolithic cup-and-ring rock art markings of the first human inhabitants of Scotland. Around 12,000 years ago, the early Stone Age hunters arrived to live off this fertile region. They survived by hunting and fishing.
Several thousand years later, during the Neolithic period, the first farmers started to propagate this fertile land and shift society into more permanent dwellings. For a period nomadic hunter-gatherers lived here alongside these early farmers.
Utilising the flat fertile ground of the Glacial formed Kilmartin Glen the first farmers planted crops of early grain varieties to make bread, and kept domesticated farm animals. Lady Glassary Wood gives a magical example of the ancient woodland that once covered the entire Glen.
Kilmartin Glen is home to at least 350 ancient monuments, of which 150 are prehistoric. All walking distance from the castle and our quiet village. Nether Largie standing stones and Temple Wood stone circle are some of the best examples of standing stone monuments in Scotland.
The award-winning centre for archeology, Kilmartin Museum, is the perfect starting point to discover the history and relevance of Kilmartin Glen.
The castle
In 1550, the year that chocolate was introduced to Europe and Mary Queen of Scots was Monarch; John Carswell became the first caretaker of Kilmartin Castle.
As many do in Argyll today, John Carswell held down two jobs. In his early 20's he was Rector of Kilmartin Church and also Tutor to the son of the 4th Earl of Argyll, who in his later years became the 5th Earl of Argyll. He gave John Carswell the position of Bishop of the Isles in 1565 after John translated the Book of Common Order into Gaelic. Together they took Christianity and used it to wield power throughout the Western Isles. Mary Queen of Scots awarded Carswell for his work by handing him control of the imposing Abbey on Iona. In 1565 John Carswell moved from Kilmartin Castle to the grander Carnasserie Castle nearby, now a ruin and open to the public.
For the next 200 years, Kilmartin Castle was held by the Campbell Clan, and at one time John Carswell's daughter lived there with her husband, one of The Campbells.
Around 1790 Kilmartin Castle fell into ruin, but the ground floor was still in use as a schoolhouse. It is a mystery why the castle was left roofless for the following 200 years.
In the 1990s, Tom and Olive Clarke, a couple in their 50's, were out rambling when they discovered and fell in love with Kilmartin Castle. It is easy to see why! They spent the next ten years of summers working on Kilmartin Castle and developing it into a basic country bolt-hole with one shower and three bedrooms.
In 2019 current owners, Stef and Simo spent seven months working with a skilled team of builders and architects on a full restoration of Kilmartin Castle. Overhauling the heating and plumbing throughout, addressing problems with the roof and the ground floor damp proofing and developing five beautiful bedrooms, all en-suite with copper baths and wood-burning stoves. Attention to detail and intelligent material choices throughout have ensured the rustic magic of Kilmartin Castle remains.
The hosts
Hi, We're Stef & Simo. We used to have stressful day jobs in The Media in Dubai, and a reoccurring dreamy conversation about quitting the rat race and opening our kind of holiday hideaway. The conversation typically started on a trip with, "Wouldn't it be great to run away and live here"… then it would shift to, "I wonder if there are any cool places for sale around here".
Then in 2014 on a winter road trip around Scotland, we fell in love, the dramatic landscape of the West coast felt like food for the soul.
When returning to work in Dubai, we instantly missed Scotland, that significant life change we had been dreaming about, this was it!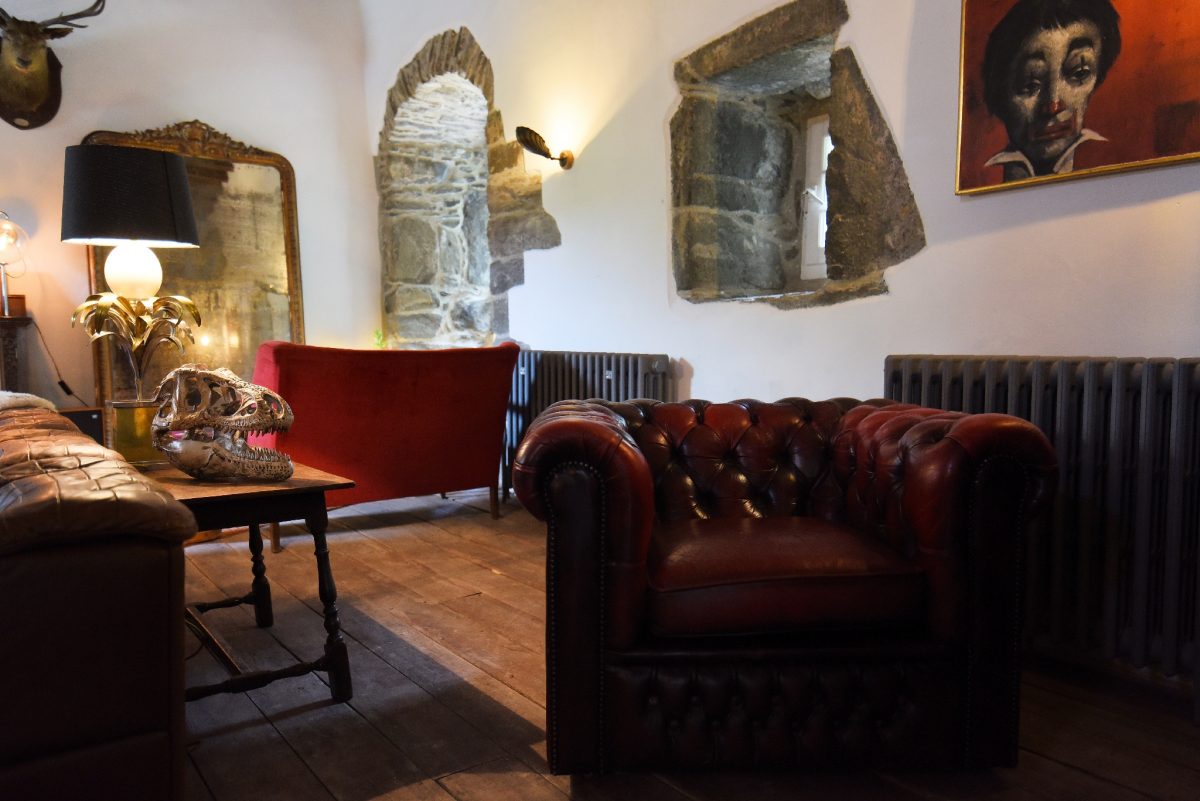 Then, if by serendipitous coincidence (or search profiling cookies) we read an article about Kilmartin Castle being for sale. This sounds ridiculous, but we didn't even look at any other properties, it was just too perfect for us. We sold all our worldly possessions to buy it.
At the end of 2018, we quit our day jobs then spent seven months restoring Kilmartin Castle with a team of architects, builders and at times a bunch of our friends. We also filmed a television show for Channel 4 called The Great Hotel Escape, which turned out to be a great way of documenting our journey.
We are incredibly excited to share Kilmartin Castle and this smashing part of Scotland with you!
Stef & Simo x