Consider the most memorable wedding you've ever been to and what springs to mind? Is it a cake, or a dancefloor? A particular style of candelabra, or a brilliant band? Or is it, perhaps, a smiling couple, a cute set of vows, a candid photograph or a first dance song choice?
Here at Kilmartin Castle, we're big believers in love. Not the saccharine, 180-guests and a gift list kind, but the latter sort – the love that makes you grin from ear to ear, understanding the joy of a moment that's totally unique to just two people. And we're not alone. Tiny weddings and elopements have become increasingly popular with couples who appreciate the unique romance of an intimate Wee Do.
And having celebrated our own wedding here at the castle we call home, we're thrilled to now be able to offer other couples the chance to join us to create their own unique moment at Kilmartin Castle.
There is something very special about an intimate, small-scale ceremony. Our Wee Do's are relaxed, deeply personal affairs, tailored entirely to your own tastes – though we've made sure to include everything you'll need within our entirely customisable package.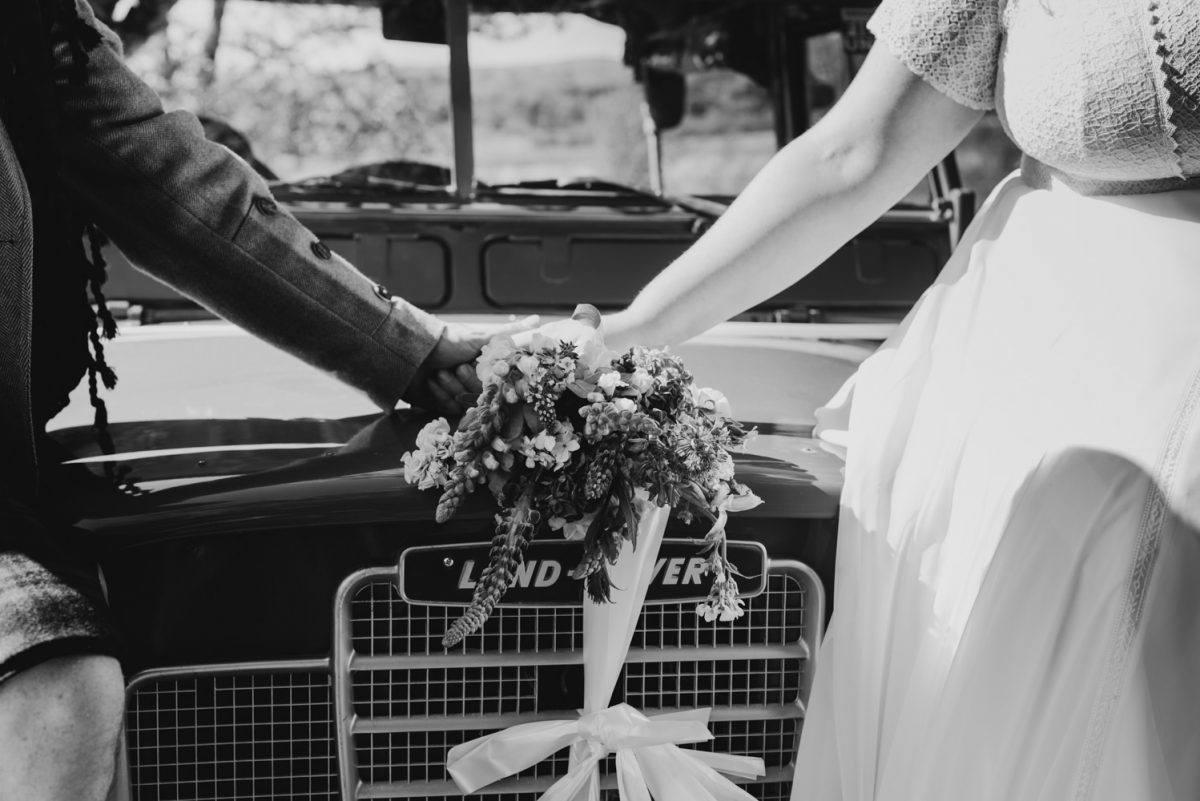 The castle is the ideal size for tiny weddings and elopements, with a variety of indoor and outdoor spaces perfect for a relaxed ceremony that puts the emphasis where it matters – on you and your closest family and friends.
Hosting a maximum of two weddings per week, always with at least a day in between, you'll have exclusive use of our four guest bedrooms, offering B&B accommodation for up to eight adults (plus your four-legged friends, should you wish them to be part of the fun). Our small friendly team will be on hand to help with your every need – local florist Gill lives in Kilmartin Village and Chef Ali in nearby Ford so are here for any last minute prep. We, Stef and Simo, will make sure that your mornings begin in the best way possible, with a cracking breakfast, and that a roaring fire is lit in the grand hall in the evenings. Our aim is to ensure that you treat the space as your own for the duration of your stay. Laidback and relaxed is our vibe, and we're never happier than when we see our guests kick back, pour a Scotch and select some vinyl under the watchful eye of the Great Hall's bearded lady. Outside, our stunning, newly landscaped gardens and wild swimming pond are ideal for soaking up the tranquillity of the west coast countryside, while our trusty vintage convertible, Sadie, and Land Rover, Bruce, are yours to use for scenic drives, standing stone visits or beach trips with photographer Bill Baillie.
The location
A true hidden gem, Kilmartin Castle is situated in the picturesque village of Kilmartin on the stunning Argyll coast, less than two hours from Glasgow. The historic region is home to more than 350 ancient monuments, from cairns to standing stones, while the castle itself dates back more than 470 years.
Despite its age – and the fact it lay abandoned for more than 200 years – Kilmartin Castle has been lovingly and sympathetically restored to offer true modern luxury beneath its vaulted stone ceilings. From luxurious copper roll-top baths and rain showers to luxury linens, Roberts radios and original artworks, every unique room offers comfort beyond compare – and whether you choose to fill them with guests or spread out to maintain the mystery before your wedding is entirely up to you. With a Wee do, you rule Kilmartin. We're just on hand to witness you get hitched without a hitch.
The package
We've endeavoured to ensure that all essentials are covered in our customisable Wee Do package, with no annoying hidden costs or exclusions. Priced at £5,900 in low season and £6,900 in summer, your wedding includes all four of our bed and breakfast rooms, whether it's just the two of you or a group of up to eight.
You'll be able to work in collaboration with all of our local suppliers, each a key part of our extended castle family, to ensure every detail is as you'd like it. From the flowers to the food, you can be as involved as you'd like in personalising proceedings while also saving yourself the logistical headache of sourcing everything independently – or, if you'd rather be hands off and are game for an adventure, why not let us take care of the details for you? All you actually need to do for your big day is show up, kick back and enjoy your time together.
Accommodation and catering
Check-in from 11am on day of arrival and enjoy a welcome drink upon arrival.  
Enjoy two nights use of all four guest bedrooms, knowing you'll be the only bed and breakfast guests with us during your stay. 
Wake to breakfast each morning, served at whatever time you'd like it. 
Take over our castle gardens and grounds with exclusive use of our wild swimming pond, fire-pit, and outdoor dining area.
Your ceremony can be held wherever you want it – simply choose between the castle orchard, the raised formal lawn, our beautiful pond deck with stunning views across Kilmartin Glen, the castle courtyard or even in the grand hall in front of a roaring fire. 
Wedding essentials
A full photography package with our highly-experienced snapper, Bill Baillie. Bill will meet you the day before the wedding to run through any last-minute questions, and you'll have full ownership of all of your photographs, shared within seven days of your ceremony.
Wedding flowers from our talented local florist and artist Gill Stewart. Gill lives in Kilmartin village and will work with you to plan your flowers for the day, using local and seasonal blooms including those from Kilmartin's own castle garden.
Delicious wedding catering from our private chef, Ali Jones. You'll work with Ali to create your own menu, including canapes served after your ceremony as well as a three-course wedding breakfast served at whatever time you decide. The west coast is renowned for its excellent seafood, but we also have wonderful local organic and free-range farms nearby, and we grow our own organic vegetables in the castle gardens. 
Crockery, glasses, cutlery, linen napkins and rustic wood risers are all included, with a choice of vintage blue and white china or rustic enamel falcon ware. 
Want an intimate elopement? We're on hand as witnesses should you need us.
Want to select your own wedding playlist? You'll have full control of the sound system.
Sadie the Superminx, our vintage convertible, and Bruce, our vintage Land Rover, are both yours to hit the open road with, offering a very photogenic means to head out to the standing stones, local stone circles, or nearby beach along with photographer Bill Baillie.
Our expertise, on-the-day management and as much (or as little) hands-on support as you'd like to ensure everything runs perfectly 
What about drinks and cake?
Bring your own Champagne, wine or beer, and as much of it as you desire. We don't charge corkage!
Bring your own wedding cake. We certainly won't charge you to cut it!
Anything else we need to think about?
Scotland is the only place in the UK where you can legally get married anywhere, but you will need to ensure the ceremony is conducted by a registered celebrant. You can book a local registrar through Argyll & Bute Council, or a Humanist celebrant for a non-religious ceremony. For the latter, you'll need to join the Humanist Society of Scotland and select a celebrant yourself – an easy process that we can happily assist you with.
We've made a conscious decision not to automatically include a make-up artist, live musician or cake in the Wee Do package. We're happy to make recommendations should you wish to include any of these in your plans.
Elope to Kilmartin Castle
£5,900 October to February
£6,900 March to September
Please get in touch to discuss planning your wedding at Kilmartin Castle.